LAXMI designs and manufactures various types of bucket elevators to efficiently handle most varieties of dry, free-flowing bulk materials. High design standards, quality manufacturing, the best possible service through many branch locations and an excellent distributor network assure many years of economical, trouble-free service. This catalog is designed to make a preliminary selection of a bucket elevator. It shows the variety of elevators manufactured by LAXMI.
Designed With Various Options of Height, Speed and Constructive details depending on the type of material to be transported. Are constructed by pieces or units to allow to Define efficiently the needed height. There are Two types of Bucket Elevator: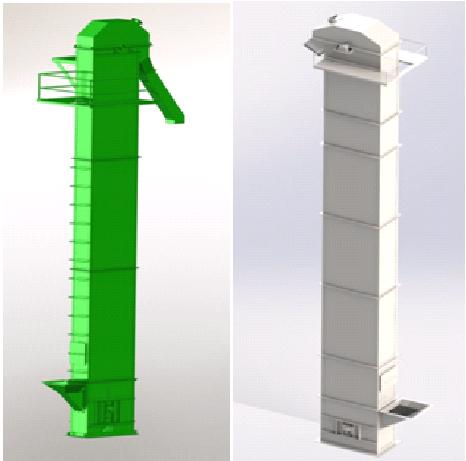 Features:-
modular/compact design,
very low power consumption,
no maintenance,
efficient and safe in operation,
better centrifugal discharge,
highly economical in the long run.
PRODUCTION & CAPACITY

FEED MATERIAL   All free flowing materials'
FEED SIZE                MAX 25 MM
FEED RATE              Upto 50 TPH

SPACE REQUIRE FOR THE PLANT

LENGTH - depending upon the capacity
WIDTH – depending upon the capacity
HEIGHT – 2 meter to 20 meters.
[ The above production figures are on tentative basis as it depends upon the hardness & Grinding ability of the mineral which may vary +/- ]