Laxmi Pulveriser is a high speed swing beater type Grinding Mill. Pulverization is achieved by the impact of beater on the material in the Grinding Chamber. The fine powder is swept by the suction of the blower from the Grinding chamber through whizzer classifier. The function of the whizzer blade and cone is to check the oversize particles and thus regulates the mesh size by shifting the whizzer blade to the cone side. The function of the blower is to deliver sized particles to the cyclone where particles are separated from the air by the centrifugal force developed in the cyclone. The powder is discharged by the cyclone outlet and the separated air returns back to the grinding chamber by semi round bend. The excess air escapes through dust collection bags connected with semi round bend. The extra fine particles are collected through Dust Collectors.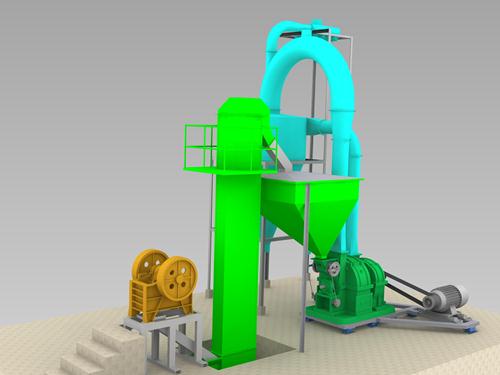 CONSTRUCTION
Laxmi Pulveriser are manufactured from the best raw material available. The main body of the machine such as Base Plate, Grinding Chamber, Whizzer Cone & the Blower are made of cast iron. Every portion which comes in contact while grinding the material is lined with steel plates. The circumference of the grinding chambers which comes in impact with the material is lined with Hard C.I. replaceable liners to ensure a long life of the machine & to protect it from wear & tear.
USAGE
 Laxmi Pulverizer is an ideal unit for grinding all types of soft & hard non –abrasive minerals such as; Talc, Soapstone, Dolomite, Calcite, Barite, and similar minerals. The mesh size varies from 60 to 500 meshes. It is also used in pesticides formulation, for grinding of dry chemicals.
TECHNICAL DETAILS
The Laxmi Pulveriser are available in five different sizes to fulfill your required production capacity. The Laxmi Pulveriser are designed in efficient & scientific manner to give maximum production with low power consumption & high efficiency.
ADDITIONAL EQUIPMENTS
It can be provided at extra cost with the pulveriser to separate the heavier & siliceous materials.
It is used for mixing of chemicals after grinding & pesticides formulation .We supply special type of mixers to attach with the pulveriser as under:
Ribbon Blender - Liquid-liquid Mixing
Orbiting Mixer - Free Flowing Dry Solids (Vertical Screw)
Rotary Mixer - liquid -powder Mixing
Cone Classifier
It can be attached at extra cost to the pulveriser to produce high mesh materials.
ITEM NOT IN SCOPE OF SUPPLY
* Motor * Electricals * Motor Rails * Motor Pulley * Cotton Bags for Dust Collector * V-Belts        
* Foundation Bolts * Civil Works  * Erection & Commissioning
TECHNICAL DETAIL
PULVERIZER
POWER REQ.
CAP. IN. TON/BHRS SHIFT
WEIGHT OF MACHINE
INT AKE IN MM
MESH  SIZE
The M.O.C.  &  the main body of the Pulverizer such as Base plate, Grinding Chamber, Whizzer cone & the Blower is made of Cast Iron. The Circumference of the grinding chambers which comes in contact with the material is lined with Hard Cast Iron Replaceable liners to ensure a long life of the machine and to protect it from quick wear & tear.
25"
30 HP
1.0-1.25
1.5MT
-20MM
300-1%
32"
50 HP(O)
5.0-6.0
3.0MT
-20MM
300/O-1%
32"
60 HP(D)

3.0-4.0
3.0MT
-20MM
500/D-1%
60 /75 HP(B.C.)
6.0-7.0
3.5MT
-20MM
300/B.C.-1%
42"
100 HP(O)
11-12
6.2MT
-20MM
300/O-1%
42"
120 HP(D)
6.0-8.0
6.2MT
-20MM
500/D-1%
150 HP(B.C.)
12-14
7 MT
-20MM
300/B.C.-1%
52"
300 HP(D)
22-25
13 MT
-20MM
300-1%
Abbreviations: 'O' stands for Ordinary , 'D' stands for Deluxe and B.C. stands for Broad chamber. A. Power required in HP                                                                                                                         
NOTE-
The capacity indicated in the Column 'B' varies with various minerals, mesh & also grind ability behavior of the minerals