Laxmi Jaw Crusher is a robust-versatile crushing machine. It has two crushing jaws. The one fixed vertically at the front end of hollow rectangular body frame is called fixed jaw. The other pivoted at the top directly mounted on eccentric shaft is swing jaw. Swing jaw receives a downward as well as forward motion due to eccentric action of the shaft. The lower end of swing jaw is held in position against toggle plate by a tension rod. The crushing jaw plates are removable and corrugated. The toggle plate has its bearing on tapered block which can be moved up and down to adjust and regulate the output opening of two jaws. By lowering the tapered block by the adjusting screw, the opening of two jaws at output end is reduced and vice versa. The material fed at the top opening of two jaws is crushed and discharged through output end.
Features
Simple structure, easy maintenance,
Stable performance, high capacity,
Even final particles and high crushing ratio,
Adopt advanced manufacturing technique and high-end materials,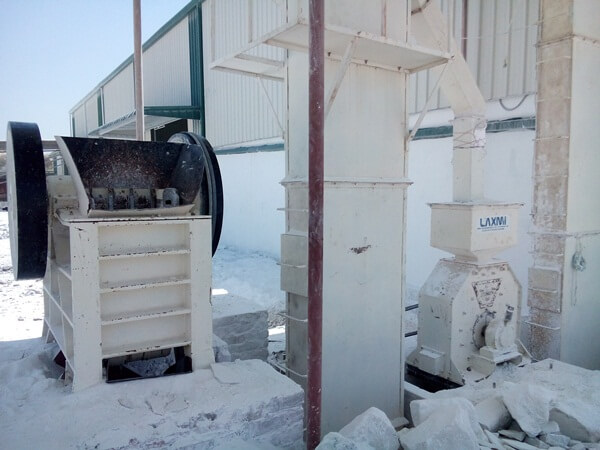 Single toggle grease type jaw crusher is suitable for better crushing and size reduction of stones like; Dolomite, Lime Stone, Calcite, talc barites etc.

Size
Power Req.
Production
12x7
10 HP
2-5 ton/hr
16x9
20 HP
4-8 ton/hr
20x12
25 HP
6-12 ton/hr
24x12
30 HP
8 -16 ton/hr
36x18
60 HP
35 -50 ton/hr
DRIVE
The main frame is fabricated from M.S. Heavy Plates and reinforced by heavy horizontal and vertical ribs. Main bearing housing of the both sides are machined in one operation for longevity of the bearings.
Jaw stocks are also fabricated and sufficiently reinforced to withstand dynamic/impact loading.
The moving jaw is fabricated from M.S. Plates with Box type structure. Moving Jaw is machined and taper roller bearing is fitted with eccentric shaft.
Fix and moving jaw plates are made of Manganese Steel casting. The fix Jaw Plate is retained by machined wedge plate in order to facilitate easy fitting and removal.
Two heavy Cast iron Fly wheels are fitted on Eccentric shaft and are balanced to ensure smooth running. One of the Fly wheels is used as the driving pulley with the arrangement of V- belt drive.
Heavy duty, self-aligning spherical roller and taper roller bearings are used in the main frame and moving Jaw assembly respectively. The Heavy Eccentric shaft is EN-8 Steel to withstand the stress and strain of crushing.
CONSTRUCTION
Laxmi Jaw crusher is easy to operate. Following are the adjustments to be carried out for proper running of machine.
An adjusting screw is provided at the back side of crusher to adjust the taper block position which in turn set the opening of jaws at output end and hence regulate the output size of crushed materials.
Jaws can be adjusted by the tapered adjusting screw to set the position on Jaw stocks as requited. Now proceed to electric control panel and switch on the machine. Wait for the star delta transformation. As the crusher gains speed, start feeding the crusher.
MAINTENANCE
Laxmi Jaw Crusher is a simple and trouble free machine. If following tips are used, it will give you trouble free service for very long time.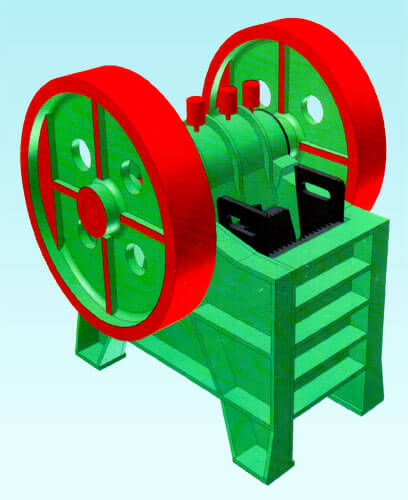 Retain proper Belt tension.
Grease the bearings regularly.
Replace the jaws when corrugated surface is worn out by 75%.
Tighten all nuts and temporary fasteners periodically.
PERFORMANCE CERTIFICATE
Each machine is accompanied with following Performance Tests :
Audio Test
Mechanical Alignment
Trial run
Feed
Speed of Crusher
Output
MANUFACTURERS GUARANTEE
Every Jaw Crusher is guaranteed against manufacturing defect for a year.
[ The above production figures are on tentative basis as it depends upon the hardness & Grinding ability of the mineral which may  vary +/- ]